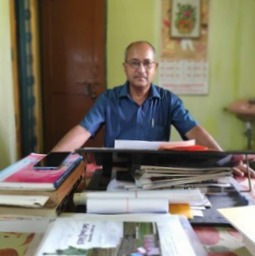 Mr. Buddhin Misra
Dear Students,
WELCOME to Sibsagar Girls' College!
It is my pleasure to welcome you all to Sibsagar Girls' College. As you embark your journey of knowledge and eager to explore your own world in today's fast changing competitive global environment, a caring and learner-centric progressive environment awaits you in Sibsagar Girls' College. Our prestigious college provides vibrant academic environment for you to sharpen your intellect and the co-curricular and extra-curricular activities organized in the college will provide a platform for well round development of personality of the young minds and elevation of talents in diverse fields.
With the strong mentoring of our qualified and energetic teaching faculty and efficient non-teaching staff we envisage that each student carves out a unique niche for herself in their chosen field of interest in this volatile uncertain complex and ambiguous world. Best of the efforts are being made by Team SGC to ensure that knowledge is disseminated without any interruption and is always learner-centric.
We are committed to our responsibility and assure you that your future prospects and career is our utmost priority. I am sure that your stay in this college will be an enriching experience of your life that will last forever.
Happy Learning with us
With Regards